World Class Live Interactive Magic For Your Wedding Reception, Private Party or Corporate Event…
Former clients include:
So you're looking for live entertainment for your wedding reception, party or corporate event?
What are the ingredients of a great party? Whether it's a wedding reception, party or corporate event, on top of a well dressed venue and good food and drink, a great party needs a bit of zaz… With the best food and drink in the world and the most spectacular venue, it can still be a boring party if the entertainment is a bit flat, or worse, non-existent.
Call us biased, but we genuinely believe that nothing beats magic, when it comes to live entertainment.
Why Adam Patel?
Adam Patel is one of Yorkshire's biggest magic exports. Branded by multiple UK media outlets as 'one of the UK's top street magicians' Adam is guaranteed to provide a wow factor for you event and give your guests memories they'll never forget.
He's caused hysteria on the streets of every major city in the UK in YouTube videos that have attracted tens of thousands of views; he's delighted and amazed celebrities and the general public alike.
What celebrities are saying…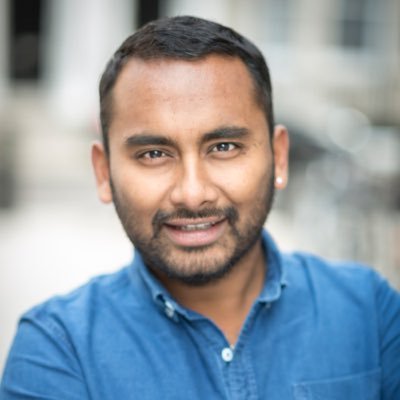 "I just got done! Fantastic!"
– Amol Rajan, BBC Journalist & Presenter
"How on Earth?! I'm impressed!"
– Peter James, Best-Selling Author
Now, Adam Patel can bring his unique fusion of sleight-of-hand, perceptual manipulation & mind hacking to your event…
Between theatre & TV work, Adam makes himself available to perform at a limited number of live events UK wide. So whatever the occasion, Adam can make it the most memorable wedding reception, birthday party, corporate event, student ball or awards after-party that your guests have ever attended.
Having performed at prestigious institutions like University College London, The British Independent Film Awards & the Cannes Film Festival; Adam is a highly sought after performer throughout the country.      
What to expect…
While magic is often associated with children, it's worth stating from the outset that Adam's style of entertainment is for more mature audiences. His live stage shows come with a minimum recommended age of 14 and private bookings are no different. Due to the nature of the the techniques utilized, Adam's magic is not suitable for young children.
But rather than telling you what to expect, a picture is worth a thousand words and a video is worth a million! So let us show you…
Adam Patel performing in Brighton
Adam blew a few minds in Birmingham
For more information on the packages Adam offers, please get in touch…
6 Good Reasons Why Adam Patel Is The Right Choice For Your Event
There are dozens of magicians out there and there are even more people calling themselves magicians who have little or no professional experience. Hosting an awesome event is predicated on hiring a competent and experienced team to run it. So here are 6 good reasons why Adam Patel is the right choice for your entertainment.
– World-class magic and mind-reading as featured on the BBC
– 10+ years of performing experience

– Adam is always on time and usually at least 10-30 minutes early. You don't have to worry about whether or not your entertainer is going to turn up. (It sounds obvious, but it would shock you how many enquiries we get from stressed out brides whose second-rate entertainers have cancelled a week before the big day – Don't let it be you!)

– Adam takes his reputation as a professional extremely seriously – once a booking is taken and a booking fee is paid, unlike many rank amateurs, Adam will never cancel. And you can be assured that he will arrive on time and ready to perform!
– 5 Star Customer Service Every Step of The Way – Adam and his team will treat your event with the care, respect and consideration that you deserve.

– Adam's signature "YOUR MIND BLOWN OR YOUR MONEY BACK" GUARANTEE™!*
For more information on the packages Adam offers, please get in touch…
How to hire magician Adam Patel for your event…
OTHER WEDDING MAGICIANS
* if Adam's performances do not blow your mind and make your jaw drop with disbelief, you'll get your money back in full. We're that confident that you'll like it.
Corporate Magician
Party Magician
Student Ball Magician
Awards Host
ADAM IS AVAILABLE IN THE FOLLOWING REGIONS